Micro photograph:
plant root cell initiation
lateral view

Growers want to produce new plants that are exactly like the mother plants that are found in the home, garden, nursery or greenhouse. To produce a plant which is genetically identical to the mother plant clonal (vegetative) propagation is needed. Propagation by the rooting of cuttings (adventitious root formation), root cuttings and division, stooling, layering, grafting and budding, and similar techniques can produce the desired clonal results. The selection of the method is dependant upon the plant variety. Propagation from seed while suitable for many plants, especially annual plants, often produce variable results. In-vitro propagation (micro-propagation), a relatively new technique, requires specialized equipment and many times does not produce new plants as expected.
Plants propagated from cuttings have the same characteristics as the parent plant. The rapid generation of new adventitious roots is necessary for the plant to transport water and essential nutrients from the media. Rhizopon AA #1, #2 and #3, and Hortus IBA Water Soluble Salts rooting hormone treatment helps the plant to rapidly develop new roots when propagating from cuttings.
The most attractive plant is a symmetric plant. Using Rhizopon AA #1, #2 and #3, and Hortus IBA Water Soluble Salts root stimulation takes place all around the basal end of the cuttings. Rhizopon AA and Hortus IBA Water Soluble Salts products have unique formulas which induce uniform absorption of the active ingredients. After early and symmetric root formation the plant stands solid in the soil, it absorbs water and nutrients, develops uniform shoot, stem and leaf growth and superior total growth.
Micro photograph:
plant root cell initiation
cross cut view
THE RHIZOPON® AND HORTUS USA® STORY
In the 1930's scientists unlocked Nature's Secret to plant growth regulation of roots. Then, scientists identified the active substances that are used by plants for growth regulation. The Dutch company Rhizopon® was started to manufacure and develop use of these substances. To this time, their plant propagationn techniques successfully promote rooting of cuttings and increase of root mass. Today, Rhizopon is the world's largest and oldest company solely devoted to rooting products and technology. Working together Rhizopon, in the Netherlands, and Hortus USA®, in the US, do plant research at their facilities located in New York USA, Hazerswoude, the Netherlands, and leading research facilities including the University of Arkansas USA and the Dr. W. Kruipt Institute, Hekendorp, the Netherlands, and at the research facilites of many international plant breeders. Rhizopon and Hortus USA products are used in URC (un-rooted cutting) rooting stations and cutting plantations worldwide.

In the 1980's the US company Hortus USA Corp., became the exclusive importer of Rhizopon AA #1, #2 and #3, plant rooting products. Adding to the product line, Hortus USA developed Hortus USA® Hortus IBA Water Soluble Salts®, allowing plant growers to use high water soluble concentrations of the active ingredients. Hortus USA has registered all products with the US EPA.
WHAT IS IAA and IBA (K-IBA)?
IAA is Indole acetic acid, the natural rooting hormone found in plants. It is not suitable for plant propagation since it has limited effectiveness.

IBA is Indole-butyric acid, the most used rooting hormone, found in Hortus IBA Water Soluble Salts® and Rhizopon® AA. It is the most effective rooting hormone active ingredient. IBA as itself is not soluble in water.

K-IBA is the water soluble version of IBA contained in solutions of Hortus IBA Water Soluble Salts®.
HOW TO USE RHIZOPON® AA DRY POWDER ROOTING HORMONES
When you treat many different types of cuttings that require different hormone concentrations use Rhizopon AA #1, #2 and #3 dry powers, ready to use.
HOW TO USE HORTUS USA® HORTUS IBA WATER SOLUBLE SALTS®
You control the solution. You make Hortus IBA Water Soluble Salts fresh solutions for any use. You make Hortus IBA Water Soluble Salts solutions from very dilute to over 100,000 ppm IBA *for stock solutions*. Treat cuttings by Quick dip, Basal long soak, Total Immerse or the Spray Drip Down®.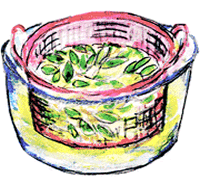 THE NEED TO USE ROOTING HORMONES
For adventitious rooting, all plants need plant growth regulator rooting hormones in order to produce roots on cuttings. To some extent these regulators are produced by the plant itself. Cuttings from different plant varieties and species have different ability to root. Some cuttings root easily, some are difficult to root, and some plants can not produce roots from cuttings. Rhizopon AA #1, #2 and #3, and Hortus USA® Hortus IBA Water Soluble Salts rooting hormones act with the plants own natural rooting regulators to aid root formation. The concentration of the induced regulator hormone should be adequate to induce root development and below the threshold to inhibit growth. Successful root formation helps the cutting to take up water and nutrient substances faster.

METHODS
FOLIAR
Spray Drip Down®
Total Immerse
PROPAGATION OF PLANTS FROM CUTTINGS IS NOT A MYSTERY
Take cuttings at the proper time from carefully selected stock plants.
Use a successful rooting method with the optimum concentration of Rhizopon AA #1, #2 and #3, and Hortus IBA Water Soluble Salts rooting hormones. Use the lowest concentration of Rhizopon AA or Hortus IBA Water Soluble Salts to do the job.